Saturday, January 05, 2008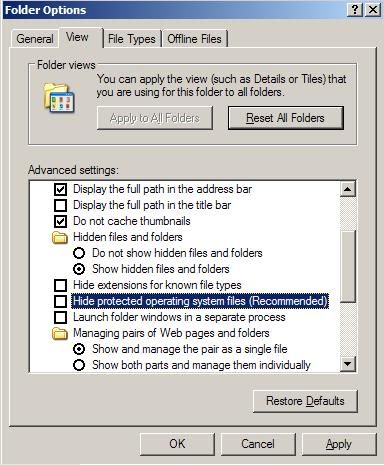 With this trick, your "Show hidden and files" option (the one that you used to see on Folder Option) will no longer be seen. So here's the steps

1. Run > regedit HKEY_LOCAL_MACHINE > SOFTWARE > Mcft > Windows > CurrentVersion > Explorer > Advanced > Folder > Hidden > SHOWALL

2. Then, change the checked value into 0

3. Open the windows explorer And go to Tools > Folder Options > View then, mark on the "Do not show hidden file and folders" radio button.

Refresh it. after that, ur hidden files & folders should be unseen. If you want to see those option again, just change the value from 0 into 1

If you like my post,
please subscribe to my RSS feed!
Related Posts : Windows System Tips
How to hide files from registry