Wednesday, July 15, 2009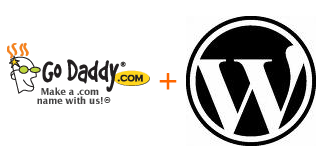 Wordpress as default are leaving your site URL as yoursite.wordpress.com the same thing as Blogspot do. If you want to convert it into .com then you'll gonna have to own domain hosting first. You can see the domain hosting list from here or here



Here i'll list down the step for you to follow but keep in mind that this step have been tested only in GoDaddy ver 2.8.7 other version than these, i don know

1. The first thing you'll need to do is to open a new account at GoDaddy

2. Start by selecting Linux as your Operating System and purchase monthly hosting plan.




After that, Search for your .com domain and purchase one years plan for $7 - $14. If the price is a bit too much for you, then you can subscribe to their newsletter and wait until they send you Coupon Code to lower the price

3. Congratulation, you just made a new .com domain and with monthly hosting plan, but we still need more steps so click on Hosting Account (Hosting > My Hosting Account), select your domain, click manage account next to your domain and configure all your personal information, now its time to wait until they approved your new domain account. (It may takes up to 24 hours to get approved)

4. After you got approved, click on Content > Go Daddy Hosting Connection




5. On the left side panel, click on Blog > Wordpress




6. Once you click it, you should be able to see Install Now button, see the screenshot below.




You click that and fill all the personal information. This personal information will be used for your Wordpress

7. Once you've finished, you'll be directed to a page that saying "Your Installation Request for Wordpress xxx has been submitted" Click on my application and see the status

8. Wait patiently for your wordpress to be fully installed (approximately 5 - 7 minutes) Then refresh it. If your wordpress has been successfully installed, you'll then see this message




If you need coupon code to lower the price then use these

ZINE1 for 10% off
ZINE2 for $5 off any $30+ purchase
ZINE25 for $25 off any purchase of $100
ZINE3 for $7.49 .com domains
MTECH1 to get 10% off anything
MTECH2 to get 20% discount when you spend 50 dollars or more
MTECH330 to get 30% off .com domain names

OYH3 - $3 off / $6.95 any .COM (renewals too)
BTPS7 - 20% any order of $50 or more
BTPS255 - 25% off any order of $100 or more
OYH1 - 10% off whatever
OYH2 - $5 off a $30 purchase
BTPS50 - 50% off .co.uk domains
BTPS4 - 10% off anything
chill1 - 10% off
chill2 - $5 off $30
chill3 - $6.95 .coms
hash1 - 10% off
hash2 - $5 off $30
hash3 - $6.95 .com registration
gdd1101c - 10% off any order of $40 or more
RRTV1 - 10% off whole order
RRTV2 - $5 off orders of $30 or more
RRTV3 - Get your domain for one year for only $6.95
best1 = 10% off any order
best2 = $5 off orders $30+
best3 = $7.49 .COM domains and renewals

Thats it, now you can start blogging and Have Fun!





If you like my post,
please subscribe to my RSS feed!
Related Posts : Web Hosting Tips
How to Installing WordPress into Domain Hosting?